Products
Contact Sales
Questions? Ready to get started?
Enter your zip code to find the nearest sales rep in your area!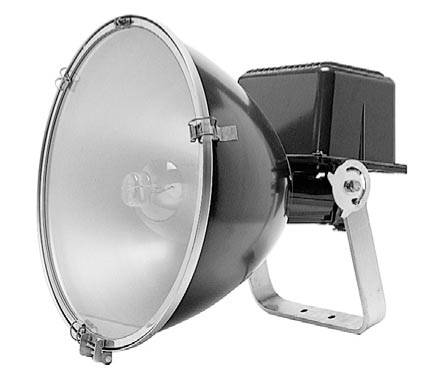 Star Beam (SB) Sports Light 1000w HID 1500W HID
Power: (400W MH,1000W MH,1500W MH,1000W HPS)
Star Beam Specification
Star Beam sports lighting floodlight (specify) general purpose; heavy duty or extra heavy duty cast aluminum outer housing. Totally weatherproof construction, shall accommodate a 250, 400 or 1,000 watt mogul base high pressure sodium lamp or a 250, 400, 1,000 or 1,500 watt mogul base metal halide lamp. Available with (specify) 120, 208, 240, 277, 347, 480 volt or 4MT (120,208,240,277V), 60Hz ballast. The floodlight shall be completely pre-wired and factory assembled. Floodlight shall be NEMA type 2, 3, 4, 5 or 6 beam spread.
Basic Product Description
Shipped as a complete unit in one carton for ease of installation and servicing. Die cast ballast housing, socket housing and wiring compartment is finned for cooler ballast operation and longer ballast life. Floodlight is finished in all weather bronze polyester powder coating (optional colors are available). Floodlight shall include a weatherproof strain relief bushing, sturdy two hole mounting yoke formed of high strength non-corrosive copper free aluminum, degree quadrant with positive repositioning stop. There shall be a removable beam sight.
Ballast Characteristics
The floodlight shall contain a U.L. recognized High Power Factor, constant wattage auto-transformer type ballast and start and operate the lamp down to -20oF (-30oC) for metal halide and -40oF (-40oC) for high pressure sodium. Mercury vapor lamps may be used in 250, 400, or 1000 watt metal halide fixtures. For availability of 220/240V 50Hz ballasts - consult factory.