Products
Contact Sales
Questions? Ready to get started?
Enter your zip code to find the nearest sales rep in your area!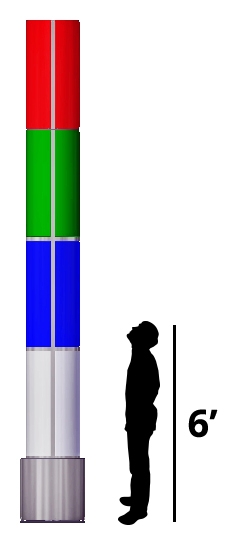 LT-500 LED Light Tower
Tower Structure
Outer Tube: Impact resistant, translucent polycarbonate plastic, UV resistant. Optional unlimited architecturally pleasing and functional performance variations are available. Consult our sales/customer service for the detail.

Optional Lens Design Vatiations: Translucent white - standard; Metal cell, specify color or texture finish or logo/text/design; Custom graphic/text or logo

Base Assembly: Structurally rigid consist of 1" thick structural, US made steel weldment. Finished corrosion resistant primed and powder coated paint.

Outer Base Cover: Stainless steel

Tower Size: 20" Diameter; Section Height = 40" Base height = 24"

Power Input: Maximum 300W, 120-277VAC 50/-60Hz Operating Condition Temperature Range: -20 Degree C to +50 Degree C.B17 Humidity Range: 0 to 95% Application: Indoor or outdoor, damp or wet location.